Events - 25 Aug 11
25 Aug 2011 - 00:00
'Da Kink in my Hair Returns to Toronto
Enwave Theatre 235 Queens Quay West Toronto ON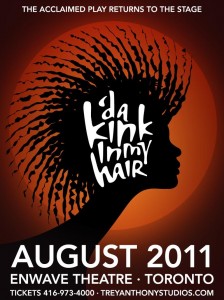 Trey Anthony Studios and TD Bank Group presents 'Da Kink in my Hair
Trey Anthony's Vision for 'da Kink from treyanthonystudios.com
'da Kink in my Hair began as a Fringe Festival show and was very small and intimate. It grew and showcased at Theatre Passe Muraille in Toronto, then gathered greater audiences when it debuted at the Princess of Wales Theatre it was later transformed into a television series with Global TV. I noticed that as it got bigger, it lost that sense of intimacy. With this re-mounting of 'da Kink, it is about going back to the basics, with the focus on the monologues and character development. My desire is to get to the heart of where it all started.
Tickets are available online at www.treyanthonystudios.com or by calling 416-973-4000

In addition to the play, audience members are invited to arrive at Enwave Theatre a bit early to view the LOOK.AT.ME art show. This multi-dimensional show will be on display in the lobby during the run of 'da Kink.
This off-stage production will feature works from a wide range of artists who have come together to produce a powerful collaboration of stories. This exhibition promises to delve into the survivals, the evolutions, the souls, the depths, the inspirations, the love, the struggles, and the triumphs of Black Women.

For up-to-date information, visit Facebook www.facebook.com/dakinkinmyhair
25 Aug 2011 - 20:00
'MSAADA': A Fundraiser for East Africa Relief
Lula Lounge 1585 Dundas Street West Toronto

Batuki Music Society invites you to 'Msaada', the East Africa Relief concert to benefit the Médicins Sans Frontières/Doctors Without Borders Horn of Africa Crisis campaign.
'Msaada' means help in the Kiswahili language, widely spoken in East Africa.
The concert features a lineup of some of Toronto's popular African artists:  Henok Abebe, Kooshin, Faduma Nakruma, Daniel Nebiat, Donne Roberts, Kemer Yousef, Njacko Backo and Val, Sonia Aimy, Ijovudu Dance, Hussein Adani, Yared Tesfaye, DJ Apollo and more. Many of the musicians performing hail from the countries severely affected by the famine (Somalia, Ethiopia and Kenya) and are joining hands with Batuki Music Society to raise funds and public awareness. 100% of proceeds of the 'Msaada' concert to benefit the Médecins Sans Frontières/Doctors Without Borders Horn of Africa Crisis Campaign. All donations will be matched by the Government of Canada's East Africa Drought Relief Fund.