Shop and Send Toys to Haiti for Christmas
4 November 2010
No Comments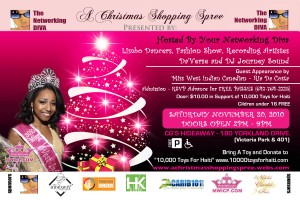 Get your wallets out and your Christmas lists ready — The Networking Diva has put together A Christmas Shopping Spree taking place November 20th at CG's Hideaway from 2pm to 9pm.  The day will include great shopping, as well as limbo dancers, a fashion show and music provided by local DJ's and recording artists.  And to ratchet up the glamour, Miss West Indian Canada will be making a special appearance.
While it's important that our loved ones receive the gifts that will make them happy, it's also important to give to those who are in need.  The organizer of the event and founder of 10,000 Toys for Haiti, The Networking Diva, is committed to a program in Haiti which will be providing gifts for 500 tent children.  These children have been displaced and don't even have walls around them, they live in tents and would deeply appreciate a gift for Christmas.
So far The Networking Diva's drive has collected about 150 toys, and the Shopping Spree day will be critical in getting that number up to 500 before she ships the toys to Haiti at the end of November.
So, come to the event, get some shopping done, and make sure you bring a toy to donate to a child in Haiti.  Complimentary Passes are available.  Please RSVP at 647-764-2725, available until Nov. 19th – on the 20th without a pass, its a $10.00 Donation which will go towards the toy drive.
Free Passes
Free Parking
Free Entertainment
Vendors interested in participating at the event are encouraged to call the Networking Diva (Alison) at 1 888-515-9206 or email her at [email protected]
Related Articles:
No Related Articles currently available...