Events - 22 Aug 11
22 Aug 2011 - 00:00
'Da Kink in my Hair Returns to Toronto
Enwave Theatre 235 Queens Quay West Toronto ON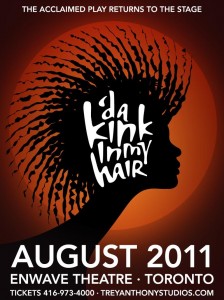 Trey Anthony Studios and TD Bank Group presents 'Da Kink in my Hair
Trey Anthony's Vision for 'da Kink from treyanthonystudios.com
'da Kink in my Hair began as a Fringe Festival show and was very small and intimate. It grew and showcased at Theatre Passe Muraille in Toronto, then gathered greater audiences when it debuted at the Princess of Wales Theatre it was later transformed into a television series with Global TV. I noticed that as it got bigger, it lost that sense of intimacy. With this re-mounting of 'da Kink, it is about going back to the basics, with the focus on the monologues and character development. My desire is to get to the heart of where it all started.
Tickets are available online at www.treyanthonystudios.com or by calling 416-973-4000

In addition to the play, audience members are invited to arrive at Enwave Theatre a bit early to view the LOOK.AT.ME art show. This multi-dimensional show will be on display in the lobby during the run of 'da Kink.
This off-stage production will feature works from a wide range of artists who have come together to produce a powerful collaboration of stories. This exhibition promises to delve into the survivals, the evolutions, the souls, the depths, the inspirations, the love, the struggles, and the triumphs of Black Women.

For up-to-date information, visit Facebook www.facebook.com/dakinkinmyhair
22 Aug 2011 - 20:00
Open Jam Night @ Harlem Restaurant
Harlem Restaurant 67 Richmond Street East Toronto

Open Jam Night @ Harlem Restaurant hosted/created by Carolyn T www.carolyntband.com
EVERY MONDAY!!! 8pm – midnight (except long weekends)
•Bring your instruments and your voice
•All Instruments welcome
•Carolyn T Band consists of Bass, Drums, Keys & Vocals
•YES!   there will be either a guitar amp and/or a DI box to connect to the house.
•Yes there is a drum kit
•Sit in on any existing instrument
•Please bring charts or be ready to improvise (covers &/or originals)
•Pure R&B, Soul, Jazz, Motown, Pop & Funk!!!
This is a COMMUNITY EVENT for musicians and spectators that provides an excellent opportunity for full-time & part-time musicians to shed, network, collaborate, promote gigs and showoff their talent! Many gigging/working bands have started because of the jam!!!
The jam is over 2 years old, busy, and still going strong!
Open Jam Night @ Harlem is an excellent opportunity for you to network with local musicians, so please bring your biz cards & cd's!
…and always remember to shout out your website!