Smoky eyes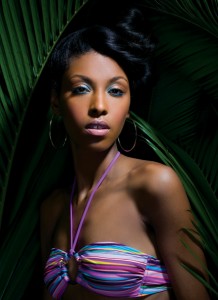 The look: Vibrant smoky eyes and a swirled topknot.
Where to wear it: On your hottest date. This is the go-to look for steamy days and even steamier nights.
How to get it:
Dust a shimmering yellow gold colour, like Joe Fresh Beauty Eye Shadow in Glo, $4, over lids and brow bones. Also, dot it on the inner corners of the eyes. Line upper and lower lash lines with Joe Fresh Beauty Pencil Eye Liner in Aqua, $4. "First, use the point of the pencil for a precise line," says DeNobrega. "Then, deepen and widen the line by going over it, using the flat edge of the tip." To highlight the liner on the lower lashes, DeNobrega added a thin line of the yellow gold shadow just below the blue. Soften the look with the medium colour from Joe Fresh Beauty Eye Shadow Trio in Blue Petrol, $6. Use it on the upper lids, sweeping it from the inner corner to one-quarter of the way in and just up past the crease.
Create flushed cheeks and kissable lips. For a sheer and dewy glow, try Joe Fresh Beauty Cheek Tint in Peach, $4. To make your lip colour last all night long, DeNobrega suggests building a base of matte lipstick, here Joe Fresh Beauty Matte Lipstick in Clay, $6, and topping it with a matching lip gloss, such as Joe Fresh Beauty Lip Gloss in Sheer Pink, $6.
Want a 'do that looks cool and cools you down? "When the heat is bothering your neck and you want your hair tied back, putting it in a topknot creates a high fashion look that is simple to do," says Bertrand. Wash the hair with Kasnique Genius shampoo and conditioner, then blow-dry with a panel brush. Loosely gather hair into a ponytail at one side of your crown, leaving out some of the fringe. Loosely twist and pin the ponytail, then twist and pin the fringe just beneath it. Keep it all in place with a hit of CHI Enviro Flex Natural Hold Hair Spray.
Photography Alexis Finch
Makeup Roxanne DeNobrega,
roxannedenobrega.com
Hair Maria Bertrand, Kasnique Hair Designs,
kasnique.ca
Beauty editor Ingrie Williams
Special thanks to NAM Models
Related Articles: