Beauty Techniques Passed Down from Mother to Daughter
23 November 2010
61 views
No Comment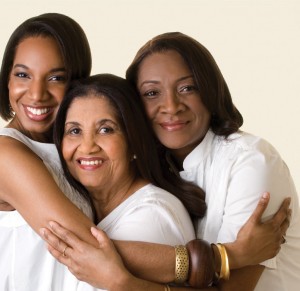 BY: Gillian Downes
Natalie's brush with beauty began with her mother's bare approach to cosmetics. "My mother doesn't really wear makeup at all," Natalie confirms, adding that the childhood memory many women have of watching their mothers getting dolled up escaped her. Still, it is clear that Patricia's preference to show off her beautiful skin rather than hide behind a mask of beauty products has had a profound influence on her daughter. "I don't wear makeup on a regular basis and I feel beautiful anyway," Natalie states.
This minimalist approach reveals a stark generation gap from her grandmother's experiences as a young woman. "When going out, you had to make yourself attractive, beautiful," Winifred says of the days when her life included a weekend ritual of French rolls, foundation and dresses. "That was the makeup time."
Patricia echoes her mother-in-law's sentiments, noting that she was "always very glamorous." Still, while Patricia acknowledges that everyone wants to feel pretty when they go out, she believes that excessive makeup tends to make people look "false." "Beauty comes from within," says Patricia.
Her daughter agrees, but isn't opposed to a few exterior-enhancing extras. Peek in to Natalie's makeup bag, and you'll discover her staples include Vaseline for moisturizing and an eyebrow pencil to fill in sparse spots. "I would love to teach (the next generation of Moore women) how to use makeup," Natalie enthuses. "When it comes to beauty, though, it's about what makes you feel best."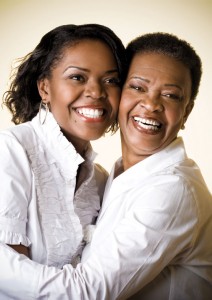 "My beauty education was a process of elimination," says Shirlene, who immigrated to Canada from Jamaica when she was six years old. In junior high, she adhered to cosmetic trends; red lipstick was her colour of choice. Today, she prefers earthy shades and beauty products that suit her skin type and tone.
Taking a cue from her heritage, Shirlene has kept her ritual as natural as possible. She counts Black Opal, Johnson & Johnson and Avon among her staples, often forgoing the hyped beauty products that line the shelves of every drugstore. "It works for me and that's important," she says of a regimen she refers to as "very simple."
Her mother Elma's upbringing was somewhat of a contrast. While she was growing up, Jamaica's roads weren't lined with boutiques filled with the latest lipsticks and miracle creams. Like many Caribbean women, Elma's experience with outer beauty was a practice left to the weekends when social gatherings called for straight hair, painted lips and dresses that showed off shapely legs.
When it came to imparting wisdom, Elma never hid the idea of beauty being a tool of attraction. Still, she encouraged a basic regime that would help ensure a healthy appearance. "I always taught Shirlene to wear moisturizer and drink lots of water," says Elma.
What would Shirlene encourage for the next generation of Sparks women? "You should focus on the inward," she says, pointing to mainstream media as a somewhat unwelcome influence that spotlights trendy hair, makeup and clothes as life's necessities. "Inner beauty is important." Shirlene's maturity when it comes to her inner — and outer — beauty is inspirational, and she proudly thanks her mother for instilling such ideals.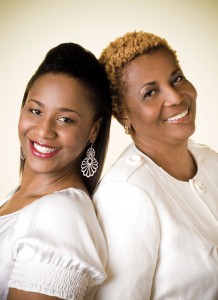 As a child, Simone often played dress-up, donning her mother's heels and drowning her face with the products Jean stashed on her dresser. "She used to watch me [put on makeup]," Jean says and laughs, recalling one particular Halloween when Simone even chose to create a Jean-inspired costume.
When Simone was four years old, Jean put her tresses in the hands of a professional hairdresser. Such behaviour might have created a false lashes-wearing, red-lip lovin' diva. Thankfully, no. "For me," Simone says," beauty has been physical, but also internal," and she credits her mother for teaching her that philosophy.
For Simone, getting glam is an indulgence. "I'm a clear lip gloss kind of girl," she says. And she's never been big on colour — although she did make an exception at our photo shoot thanks to the gentle guidance of our expert makeup artists. Another simple staple she has been known to treat herself to is a jar of Pond's. The iconic cold cream was familiar to Jean's Jamaican upbringing, and she passed down the benefits of it to her daughter. Today, however, Simone has traded in her mother's tried-and-true moisturizer for one that better suits her needs.
As a child growing up, Jean was not afforded the beauty liberties she instilled in her daughter. "My parents didn't like me to straighten my hair," Jean admits, citing her religion as a major influence on her minimal beauty regime. Like many curious girls who were amazed by images of black women with long, flowing locks, Jean and her sister straightened their hair with the help of a knife and fork they heated on the stove to create a hot iron.
Today, Jean's idea of beauty has come a long way with the help of modern products. Simone has taken a cue from her mother, using beauty as a tool of enhancement. "[When it comes to makeup] you should do what you like," says Simone, "but nothing too excessive."
We couldn't agree more.
Photography: Alexis Finch
Beauty Editor: Ingrie Williams
Story by: Gillian Downes
Makeup and hair: Roxanne DeNobrega (roxannedenobrega.com) & Shawna Renee(shawna-renee.com)