The struggle to maintain a beauty routine with the demands of a newborn
1 October 2010
159 views
No Comment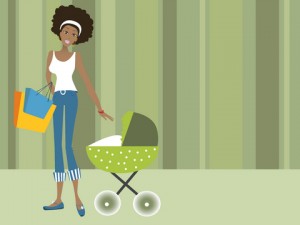 Beauty and the Babe
As told to Simona Siad
My name is Candice Menzies. I'm a 26-year-old social worker, and I recently gave birth to my son Kayson.
Beauty-wise, before the baby, my motto used to be: If you look good, you will feel good. I truly walked that walk. My hair was always important and I would get it done at least once a month. I was also all about following the latest makeup trends. I usually kept it pretty simple and natural during the day, but I loved playing with dramatic makeup when I went out. You know, fake eyelashes, bright shadows and bold lipsticks — the works! I will admit, I was pretty high maintenance. Getting ready would take at least two and a half hours. I didn't like to rush beauty.
And then I had my son.
Don't get me wrong, I love my child. Having him has been the greatest blessing in my life. But when I gave birth to Kayson, I quickly realized that my needs come last. For the last five months, my baby has come first, then the household chores and then, finally, me. It seems like time goes by so fast. Honestly, if I can accomplish one thing a day on my list (besides taking care of Kayson), I feel so proud.
My beauty routine consists of doing things in painful, spread-out steps. Simple things like showering, putting on makeup and even brushing my teeth often feel like luxurious treatments. And, don't get me started on my toes! I keep making appointments to get a pedicure but I never seem to get there. The hardest part is that I just haven't felt the same. I haven't felt sexy or glamorous. You know how they say a picture tells a thousand words?
The day I got home from the hospital, I realized I wasn't in any of the photographs with my baby. My little sisters took some photos and started giggling, uncontrollably. I saw the photos and gasped in horror. Half of my hair was standing upright like a crooked bird's nest! OK, I didn't expect my hair to look amazing after giving birth, but I didn't realize it looked that bad. I think that was the exact moment that I realized my life had changed drastically. I really began to feel afraid that I was going to lose myself forever.
But things are slowly getting better. I recently splurged on a new line of skin care products. It feels good to feel pampered again. My goal is to try to get a massage once a month and I also plan on trying hot yoga. Beauty starts from within so I want to take care of myself and find a balance. I wouldn't trade Kayson for the world and motherhood has been the most amazing experience.
Through taking care of him, I have been learning more about myself. I am slowly turning into the person I've always been striving to become. He has actually made me a better person, a more beautiful person. Now … if only I could find time to get that pedicure!
We'd love to hear how you stay beautiful as a new Mom.  Leave your comments below, and any tips and tricks you wish to share with other new Moms.
_________________________________________________________________________________________
Befriend Sway on Facebook
Sway with us on Twitter
Related Articles: