Oscar Peterson immortalized
6 July 2010
737 views
One Comment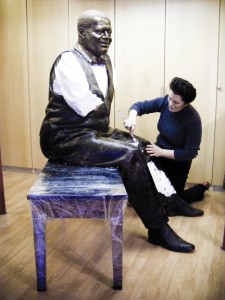 A giant of Jazz
The National Arts Centre honours Oscar Peterson, Canada's famed jazz pianist, with a statue.
By Simona Siad
Canadian jazz composer and pianist Joe Sealy still remembers the first time he heard Oscar Peterson play. "I was 11 years old when my dad took me to Jazz at the Philharmonic in Montreal to see the Oscar Peterson trio," recalls Sealy. "He was just amazing. I had never heard anything quite like that in my life."
Now, aspiring Canadian musicians and fans alike will be able to remember the late Canadian jazz legend, forever. On June 30, renowned Canadian artist Ruth Abernethy unveiled her bronze statue of Peterson as part of this year's Canada Day celebrations. The statue now stands proudly outside of the National Arts Centre in Ottawa, steps from Parliament Hill and the National War Memorial.
"The National Arts Centre wanted to honour Oscar Peterson because he was simply the best," says Rosemary Thompson, director of communications and public relations at the centre. "His 65-year career as a musician, recording artist, composer and mentor is inspiring not only to Canada but to the world."
Thompson says the idea first began when a group of prominent Canadians launched a fundraising campaign to create the life-sized sculpture of Peterson. Among the first donors to the campaign were Prime Minister Stephen Harper and his wife, Laureen, as well as former Ontario Premier Bob Rae and his wife, Arlene Perly Rae. Canadian jazz great Oliver Jones, national TV news anchor Lloyd Robertson and his wife, Nancy and businessman Harry Rosen and his wife, Evelyn, also contributed.
But when news broke about the idea for a statue, support  also came rushing in from around the world. "The reaction from Canadians was tremendous. Donations both big and small poured in from across the country. We had a donor from South Carolina, and another one from the United Kingdom," says Thompson.
Peterson, a jazz pianist and composer who died of kidney failure on Dec. 23, 2007, is fondly remembered as one of the greatest jazz pianists of all time. He was called the Maharaja of the Keyboard by Duke Ellington, O.P. by his friends, and was a member of jazz royalty. Peterson released more than 200 recordings, won seven Grammy Awards, and received other numerous praise and honours over the course of his lengthy career.
"Oscar Peterson is a quintessential Canadian success story," Prime Minister Harper says in a press release. "He came from humble roots to become a legendary performer who inspired countless artists all over the world. He deserves to be honoured in this prominent location of our nation's capital." Thompson agrees: "I think Mr. Peterson is beloved because he represents the best of what Canada should strive to be — a country where you can reach a pinnacle of success with hard work and determination," she says.
"Oscar Peterson felt the sting of racial discrimination during his lifetime, but he used his art and his quiet strength to overcome."
For Sealy, who is still performing and recording jazz decades after that first encounter hearing Peterson, the statue means even more. "It shows that anything is possible," he says. "Oscar achieved this status through his hard work and his talent. He was an ambassador to Canada and [this statue] shows young Black children everywhere that these things are possible and achievable."