A World full of Colour; South African Fashion
27 October 2010
12 Comments
By Belinda Barrocks
As an International Photographer, I enjoy travelling, discovering, and integrating the fashions I unearth into my own style.  This October I had the journey of a lifetime during my trip to South Africa. The countless sights I saw, and experiences that came along, made my South African fashion experience even more luscious and vibrant.
Suriya Veerappan,  Spokesperson for Integrity Tours (company which specializes in tours to South Africa) said it best:  "If you've never been to South Africa, I think you would be pleasantly surprised by level of sophistication in the fashion industry. Not only can you shop high end boutiques, but there are numerous department stores and large flea markets, each carrying beautiful fashions."
As Suriya explained, "There are many fashion events held throughout the country which give leading South
African designers an opportunity to showcase their fashion on a national and international level. This adds to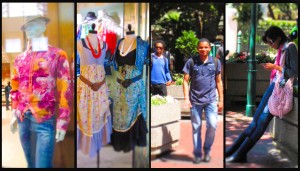 the robust fashion industry including designers, fashion magazine editors, designer students and of course, fashion-addicts"
There was a time when black and white were my only sartorial choice of colour until I was rebuked repeatedly by my stylist friend "Kyla Francis" as she encouraged and dared me to wear color. Now I crave colour.  Vibrant and enriching tones fill my images. The one thing I noticed while I was travelling in South Africa, from Johannesburg to Cape Town, is that the streets are filled with young and older fashionistas alike, all sporting vibrant hues. The weather was so beautiful and people couldn't help making the most of it by brightening the streets with colors and smiles.
"Fashion in South Africa is a very young concept and therefore it has enormous potential for growth. There's a pool of talent emanating from every part of the country, from the traditional side, through to modern-day culture. South Africa has got an eclectic mix of people and because of this our fashion is very broad and unrestricted." by Mosa of Mosewamosa (South African Designer & Label)
From the most traditionally dressed to the most contemporary European Fashions, the streets of South Africa resound with echoes of color; such irony in light of the Colour struggles the country has faced over the many years of Apartheid.
The New South Africa embraces their turbulent history and deep passions, which help enable this complex population to celebrate one another through their expressive fashion, colours, smiles and voices. I completely enjoyed South Africa, even more so for their love of the fashion and style.
Thats my kind of world… "A World Full of Color"
~~~~~~~~~~~~~~~~~~~~~~~~~~~~~~~~~~~~~~~~~~~~~~~~~~~~~~~~~~~~~~~~~~~~~~~~~~~~~~~~~~~~~~~~~~~~~~~~~~~~~~~~~~~~~~~~~~~~~~~~~~~~~~~~~~~~~
By Belinda of Kamshuka Photography (Creative International photographer, Blogger, Motivational Speaker & Digital Artist)
"Kamshuka Photography"|416.320.9645 | [email protected] | www.kamshuka.com
FOLLOW US ON TWITTER: www.twitter.com/kamshuka
BECOME A "KAMSHUKA" FACEBOOK fan
Capturing the Expressions of Life!!
Related Articles: