At Home With Donovan Bailey
23 November 2010
107 views
No Comment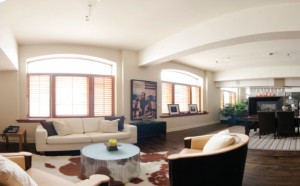 BY: Andrew Miller
Neatly nestled within Toronto's classic downtown skyline, two-time Olympic gold medalist and former world-record holder Donovan Bailey's swank city pad reflects the culmination of a keen and long-term real estate vision. "We bought the building in 1995," says Bailey. "This suite used to be my office, but we've changed things quite a bit from then, and now I call it home." Bailey adds: "I had a vision of how I wanted the place to look, I've had some help with a few things but I'm glad the way everything has turned out."
Since retiring from the world of track and field in 2001, Donovan Bailey has been a busy man. On any given day, Bailey wears the hats of father, businessman, philanthropist and sports analyst. However, it was his background in business that allowed him to make smart investments in real estate.
"This building is unique," says Bailey. "I'm in the middle of everything, yet nobody knows I'm here. This building is used for filming for a lot of the movies and television shows that come into town. You're not going to find a unit that's over 5,000 square feet in downtown Toronto. You cannot build something like this."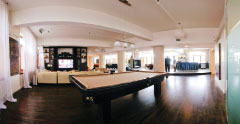 From the second the elevator doors slide open, the sheer size of this sprawling space seems overwhelming. Without even knowing it, you've entered Bailey's home, a den of contemporary style bathed in chocolate hardwood floors in an open-concept living space. Beautiful pieces of art adorn the walls, giving contrast and warmth to this spacious and opulent environment.
"I started in real estate when I was about 20 years old," says Bailey. "My father always said to me to invest in items that you can touch. You can always use property as leverage and investing in hard assets is smarter than stocks in this questionable economic time."
With a great view and flooded with natural light, this residence is the perfect venue for entertaining. The extremely versatile space features a dining area, media space and gourmet kitchen, not to mention a full-size regulation pool table for any sharks that may want to indulge in a friendly game of billiards.
"I like natural colours, browns and beiges," says Bailey. "My inspirations for this space were just based on things I enjoy, sunshine and freedom… . Growing up as a child in Jamaica I had to share a room with my four brothers," says Bailey "so it's very humbling to see growth."
Already a legend in the sports world, Bailey aspires to be a mogul in the business world and credits his numerous business mentors with keeping him focused and inspired while sharing advice.
"Part of the problem, sometimes, with people who are in entertainment or sports is that they don't plan for the future and don't transition well into other fields after their careers are over. They chose to hang on to the spotlight too long and do not understand how crucial it is to plan ahead."
With this in mind, Bailey created the Donovan Bailey Fund, in order to help assist talented amateur athletes achieve their athletic goals and plan for their future outside of sport.
Outside of his philanthropic fund, Bailey's corporate venture, Bailey Inc., includes real estate holdings, an upcoming apparel line, and an exercise training program.
With all of this going on, one might think that stress would overwhelm this Canadian sports icon. But in this downtown oasis, Bailey also has a special place to relax.
"I enjoy a good glass of wine and the hot tub," Bailey says with a smile. "That definitely releases any tension and puts my mind at ease."
Befriend Sway on Facebook
Sway with us on Twitter