British Import Estelle Dishes about Music, Life and Canadian Boys
23 November 2010
18 views
No Comment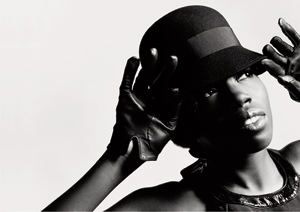 BY: Jon Sarpong and Melissa Bessey
What do you do if you see Grammy-winning artist and hip-hop producer Kanye West standing in line at the local fast food joint? If you're a talented soul singer looking for your big break, you put down your biscuits and gravy, seize the moment and make it your own.
At least, that's how British soul singer Estelle managed to get her big break into the music industry.
"I went to Roscoe's Chicken and bumped into Kanye," she says. "I was like, 'Lord, if you're above, I need to meet Kanye; he needs to come outside.' About 10 seconds later, he came out and I went, 'Thank you, Jesus!' I walked up to him and said, 'Yo Kanye, I'm a big fan.' John Legend was also there, and so I asked Kanye if we could meet and he agreed. So, I met Kanye and John on that day and we stayed friends."
That unplanned encounter turned out to be a life-changing experience for the record store employee, originally born Fanta Estelle Swaray.
Soon after the fateful meeting, Estelle found herself in the studio with both Legend and West, going over the beats that would appear on her album. The duo were so impressed with her attitude and ability that Legend made Estelle the first artist signed to his new HomeSchool Records label. For Estelle, the opportunity to be signed to a U.S. label was exciting, but she did have her reservations.
"There's more of a blueprint in the U.S. to just carry it over and continue what they're doing, in the mainstream, that is," she says. "The industry really doesn't capitalize on what we are doing differently in the U.K., which is leading the underground. John Legend's my brother, so being on HomeSchool is great. I'm not mad at my deal, but when I look at some of the deals that other artists get into, I think, 'Wow, I couldn't work with that. The labels are begging us to be part of our lives and that's a great position [to be in], to be able to control our future, our money and where our songs go."
Her self-determining ability to live and shape her life is something that Estelle refuses to relinquish. On her album, Shine, bridged between the innovative beats and vocal acrobatics are points of insight revealing the very real insecurities that accompany a life in the spotlight.
"Shine summed up my life at the point of my move to New York. I wrote it literally a day before I moved. Then I got to NY and recorded it," she recalls. "With my career, everyone thinks my life is golden because I just got this brand new record deal with John Legend. But I keep letting people know that there's a bunch of shit behind all of this; there's a real person."
The rawness and vulnerability of her music has hit a positive note with audiences and fellow artists alike.
Homegrown hero Kardinal Offishall ranks high among Estelle's favourite musical collaborators. While the two were in between record labels, they hit it off through a love of Canada and dancehall.
"Kardi's my brother," Estelle says. "There was no longness to get him to do the beat, to get him to do the track; we've worked together so much before. We'll be on I-chat saying, 'What are you working on? You got anything good for me? Send me some beats.' That's how we work. So, it was cool for him to do that one for the album, and he's the only person that could do it. And he killed it, so I was happy."
With Shine making a solid debut on Canadian, U.K. and U.S. music charts, an evolving career and additional artist collaborations seem certain for the emerging star – but just don't mention working with idol Mary J. Blige. If meeting Kanye West was a thrill, working with Blige is something Estelle is not sure she can handle.
"I would love to work with Mary J. Blige!" she says beaming. "I think I would cry. It would probably be Mary J. Blige featuring Estelle's breath, 'cause I wouldn't be able to sing," she laughs, continuing, "Oh no – Mary J. Blige featuring Estelle's tears – that's what it would be."
Hopefully, the next time she bumps into Mary J. Blige, she'll seize the day and ask. If her current album is any indicator, that bold approach seems to be working for her.
What the critics say:
"Estelle Swaray is something of a novelty. Not because of her reference points, which range from classic hip-hop to lovers' rock reggae to 1980s pop, and not because she raps even better than she sings, effortlessly switching between the two." – The New York Times
"On her American debut, this former U.K. record store clerk boasts an all star cast: executive producer John Legend, Will.i.am, Swizz Beatz, Kanye West and Cee-Lo, who duets on the Philly soul "Pretty Please (Love Me)." But those Yanks don't dilute Shine's regional feel-this West London homegirl's perspective is etched in her husky singing, fleet-tongued rapping and wised-up lyrics." – Rolling Stone
"Shine's lingering impression is that of several talented cooks crammed into a tiny kitchen, each crafting something delicious with little regard for the meal as a whole." – Pitchfork
Originally published in Sway Magazine, Summer 2008
Befriend Sway on Facebook
Sway with us on Twitter