Inspiring Children with Music
28 October 2010
159 views
No Comment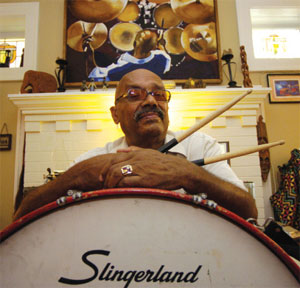 Jazz legend follows the beat of a different drum

By: Lenny Stoute
AT 70-PLUS YEARS, jazz legend Archie Alleyne continues to gig at a rate that would leave players half his age out of breath. In the early 1950s, Alleyne took his self-taught style from his kitchen to Toronto's then red-hot jazz scene. A few years later, he became the house drummer at the Town Tavern, accompanying U.S. jazz legends Billie Holiday, Lester Young, Coleman Hawkins and Ben Webster.
After a car crash in 1967, Alleyne left music in order to bring soul food to Toronto with his restaurant The Underground Railroad; he didn't play publicly again until 1982. Since then, Alleyne has been a much sought after musician and an avid social activist.
In the late 1980s, Alleyne and friend Rudy Webb created Evolution of Jazz (EOJ), a music and dance program aimed at connecting black youth with musical legacies. Today, Alleyne continues the work he started with EOJ through the Archie Alleyne Scholarship & Bursary Fund (AASBF).
"During the early days of EOJ," says Alleyne, "we focused on school children in deprived areas where I felt the attention was most needed. For the most part, we'd go into the school with a little troupe of musicians and dancers. If there was funding, we'd rent a local theatre and bus the kids in. Part of it was to expose the youth to styles of black music that wasn't angry music."
The funding for the EOJ program came entirely from the Ontario Arts Council, and it was launched at a time when the provincial government was frantic to fund programs that addressed the circumstances and conditions of troubled neighbourhoods. "On occasion, certain schools had enough talented and committed kids that we went in there and mentored them through the show," says Alleyne, "but all the performers in the show were kids from this school. After those shows, you could just see the pride and confidence radiating from them. We felt if, at the end of the day, we'd inspire one kid to take up music, then it was worth it."
Today, along with EOJ, Alleyne uses the AASBF to provide specific support for aspiring young musicians. The fund consists of a mentorship program as well as an award that is provided to applicants in recognition of their achievements and to assist them in their musical education.
"The great thing about this program is it gives kids the opportunity to use their talents in a constructive way," says Alleyne, "instead of it being wasted on the streets. Hopefully, we can continue to grow and help even more people. It is my hope that people will jump on board and support what we're doing."
The AASBF is open to students up to the age of 25, who are enrolled in a jazz program, graduates of a secondary school or in full-time attendance at a post-secondary institution, maintaining academic excellence and contributing to their community. (For more information visit kollage.ca.)
Watch Archie perform at The Rex here:
_____________________________________________________________________________________________________________________
Befriend Sway on Facebook
Sway with us on Twitter