Donisha Prendergast; Rastafari Royalty
1 October 2010
4 Comments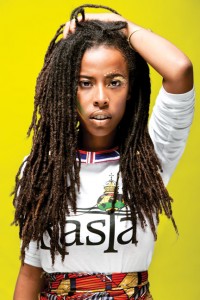 By Stephanie Pollard
Donisha Prendergast is a child of Rastafari — a linkage made through her family ties to musical legends Bob and Rita Marley. As one of the granddaughters of reggae music's most iconic figures, Prendergast grew up in a world that revered the art and life of her legendary relative. His legacy and her desire to dispel any misconceptions about the religious and cultural Rastafari movement inspired her to create the documentary Rasta, A Soul's Journey.
It is a film that examines the global impact of Rasta culture. Along with Patricia Scarlett of Scarlett Media Inc., Prendergast travels the world, discovering the roots and the cultural expression into which Rastafari has evolved.
"I wanted to know what Rasta was like around the world," Prendergast says of the project. "I thought I was just going to see the roots and evolution, but Rasta is a cultural expression. Not everybody who wears dreadlocks or smokes weed will claim to be Rasta … but they're expressing Rasta in a certain essence, so it's just about understanding (that)."
Her cinematic journey encounters Rastafari communities in the U.S., Israel, India, Jamaica, South Africa, Ethiopia, Canada and the United Kingdom. In these countries, she meets with men and women who have chosen a Rastafari lifestyle, explore how the movement evolved in that particular place and ultimately hopes to find her purpose as a young Rasta woman.
Prendergast is also hoping to banish the stereotypes that try to besmirch Rastafari's uplifting impact. "Rasta is a life of service. You don't sit down and beat drums every day," she says. "You go and work with the youth, you teach and you build. You also go and talk about Africa and find ways to reach Africa. You have work to do. That is the biggest misconception about Rasta, that you don't have work to do."
In fact, Prendergast believes part of her work will be similar to that of her grandmother Rita Marley, who founded the Robert Marley Foundation and assisted more than 200 children in the Konkonuru Methodist Basic School in Ghana where she lives. Prendergast is also aware that her role in Rastafari will influence young female followers in the movement:
"I have two little sisters that think that I am the greatest person in the world," she says. "And I have to be that for them, especially them. And there are little girls out there like them who are not my little sisters but still want me to be a big sister, you know?" She has special advice for these little sisters in or outside of the Rastafari movement: "Don't be anybody else but yourself. That's the best person you can be."
Related Articles: